Supply chain trade
Jingyi shares are approved as the first batch of "pilot enterprises in Guangdong supply chain management", the supply chain trade is mainly based on the company's copper processing business upstream and downstream customer needs as the core, the use of listed companies platform resources integration capabilities to "a revenue share , The development of their own "supply chain trade direct one-stop service, build procurement platform, sales platform and logistics platform to help enterprises from raw material procurement to product sales throughout the supply chain management, operation. Help enterprises within the supply chain to speed up the operation speed, reduce operating costs and operational risks, and through the supply chain services to help enterprises improve the governance mechanism and improve the sense of operational awareness and level, improve the core competitiveness of enterprises.
Competitiveness and advantages
01
Rapid response to financial needs to help enterprises improve turnover, lower operating costs to achieve a higher level of customer service, expand business sales, improve corporate profitability, improve operational capacity, and ultimately achieve a win-win situation.
02
By helping enterprises to do a good job purchasing cash flow, bill flow, logistics management, to help customers prevent risks, improve the efficiency of the use of funds and the use of quality.
03
Fine arts have a good market resources, credibility, goodwill and good qualifications, and upstream and downstream customers have more bargaining power and integration capabilities, a wider channel.
04
With the fine arts cooperation, fine arts will output their own accumulation of management mode, market experience, from the management, finance, legal, financial and other angles continue to help customers standardize the development.
Supply Chain Management

Online and offline O2O combination, efficient trading platform, supply chain trading platform, distribution, etc., to ensure efficient and low-cost enterprise supply chain operation, improve turnover efficiency

Service industry

Building materials industry
Printing culture industry
Nonferrous metals trade and processing
Machinery manufacturing industry

Fashion industry
Appliance manufacturing and trade
Warehousing logistics industry
Accurate, efficient, and shared
supply chain services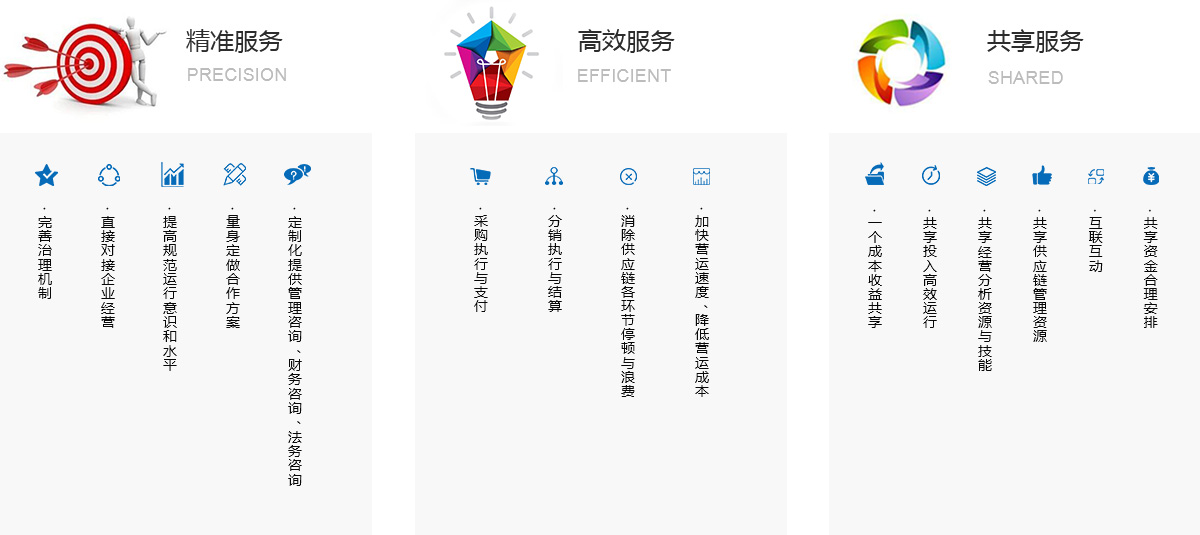 免责声明: 本站资料及图片来源互联网文章,本网不承担任何由内容信息所引起的争议和法律责任。所有作品版权归原创作者所有,与本站立场无关,如用户分享不慎侵犯了您的权益,请联系我们告知,我们将做删除处理!